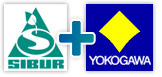 Yesterday, 23 November 2010, meeting took place between SIBUR's President Dmitry Konov and Shuzo Kaihori, President of Yokogawa Electric Corporation, as it was said in a joint press release of mentioned above companies.
The main topic of the meeting was the development of bilateral relations between the companies.
The collaboration between SIBUR and Yokogawa began more than 15 years ago with a small supply of equipment for the automation of industrial production in SIBUR's enterprises. The big breakthrough in the development of relations between the companies was the signing of a partnership agreement in November 2006. The agreement was aimed at the fundamental modernization of technological processes in the enterprises of SIBUR using the latest systems for control, measurement, information technology and services, supplied by Yokogawa.
During the meeting Yokogawa's management expressed their gratitude for the trust shown by selecting Yokogawa as the general contractor for the automation of the new complex Tobolsk-Polymer. For this project, SIBUR decided to make maximum use of international experience. Under the terms of the contract, Yokogawa Electric CIS Ltd., a subsidiary of the Japanese Yokogawa Electric Corporation, is currently performing a full range of work for the design, manufacture and supply of equipment, factory testing, as well as service support and training of SIBUR's experts.
Issues concerning current projects for the modernization of SIBUR's enterprises were also touched upon, these taking place under the framework of the Strategic Cooperation Agreement. In the future it is planned to submit to SIBUR a proposal for simulators for the training of operators of automated systems for the control of technological processes.