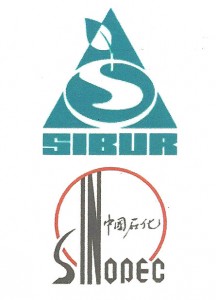 Moscow, 28 April 2012: Dmitry Konov, CEO of Russian petrochemical holding company SIBUR, and Wang Tianpu, President of ChinaPetrochemical Corporation (Sinopec Group), today signed a cooperation agreement during the Russian-Chinese Forum on commercial investment cooperation.
The signing of the agreement was witnessed by Igor Shuvalov, First Deputy Prime Minister of the Russian Federation, and Li Keqiang, the VicePremier of the State Council of the People's Republic of China.
The agreement forms the basis for the creation of a joint venture (JV) for the production of butadiene nitrile rubber in Krasnoyarsk (Russia). Sinopec plans to acquire 25% plus 1 share in the Krasnoyarsk rubber plant. The companies will consider expanding the plant's current production capacity from 42,000 tonnes to 56,000 tonnes per year.
The cooperation agreement describes the mechanism for the financing of the JV, as well as arrangements relating to share capital, management, raw material supply and marketing.
A final decision on the establishment of the JV is expected by the end of 2012.
Background information:

Sinopec Corp. is a large scale integrated energy and chemical company with upstream, midstream and downstream operations. Its principal business includes: exploring, developing, producing and trading crude oil and natural gas; producing, storing, transporting and distributing and marketing petroleum products, petrochemical products, synthetic fiber, fertilizer and other chemical products. Sinopec is China's largest manufacturer and supplier of petroleum products and major petrochemical products. It is the second largest producer of crude oil in China. Its refining capacity and ethylene capacity rank No.2 and No.4 globally. The Company has 30,000 sales and distribution networks of oil products and chemical products, its service stations is now ranked third largest in the world. Sinopec Group, the parent company, is ranked the 5th in Fortune Global 500 in 2011. Sinopec listed in Hong Kong, New York, London and Shanghai (CH:600028;HKEX:386;NYSE: SNP;LSE: SNP).

SIBUR is the largest petrochemical company in Russia and Eastern Europe, one of the fastest growing petrochemical companies in the world and in the top three by EBITDA margin in the petrochemical industry globally. The Company is one of the top two European synthetic rubbers producers.

SIBUR operates across the entire petrochemical process chain from gas processing, production of monomers, plastics and synthetic rubbers to the processing of plastics. SIBUR is a vertically integrated company with its gas processing facilities providing feedstock for its petrochemical production. SIBUR's export sales are around 40-45%. The company has trade houses in Europe and China.