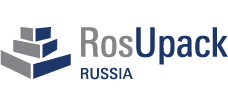 RosUpack, the 17th International Exhibition of packaging industry, will take place on 18–22 of June, 2012 in the new modern pavilion 75 at VVC.
For the convenience of visitors and participants the exposition is grouped according to the following themes:
Eguipment (Packing equipment; Equipment for cosmetic and pharmaceutical packaging; Equipment for food packaging and liquids; Equipment for all types of packaging; Сonversion equipment, pre-press, printing, decorating packages)
Packaging (Drinks and liquid; Packaging for food products; Packaging for cosmetics and pharmaceuticals; Packaging for all products; Industrial Packaging; Elite, luxury and gift wrap)
Containers, raw and expendable materials (Raw materials; Consumables; Film)
Labeling (Equipment for the production of labels; The identification, labeling, bar coding and label)
Logistics and warehousing (Loading, unloading, storing; Secondary packaging, shipping, warehouse)
In 2011 RosUpack brought together 704 companies from 30 countries worldwide. During the five days the exhibition was attended by 19 655 people from 49 countries and all Russian regions providing the unique opportunity to obtain during these five days all necessary information about the industry, to meet new partners and sign contracts. The exhibition annually includes an informative business program aimed at business cooperation which provides educational potential for all participants and attendees.
Status of visitors (According to the poll of visitors conducted by the exhibition organiser):
95,7% specialists in the packaging industry
62,3% top managers and mid-level executives
54,1% have found new partners
Organiser:
MVK (The part of the ITE Group)